Why You Should Consider Selling Your Park City Home in the Winter
Posted by Michael Mazzone on Wednesday, November 24, 2021 at 1:50 PM
By Michael Mazzone / November 24, 2021
Comment
It is commonly said that the spring is the best time to put your house on the market but, there are definite advantages to selling in the winter. This is especially true for areas like Park City where we come alive in the winter! But a spring sale does make sense, however, in the winter the seller really is at an advantage, and here's a few reasons why.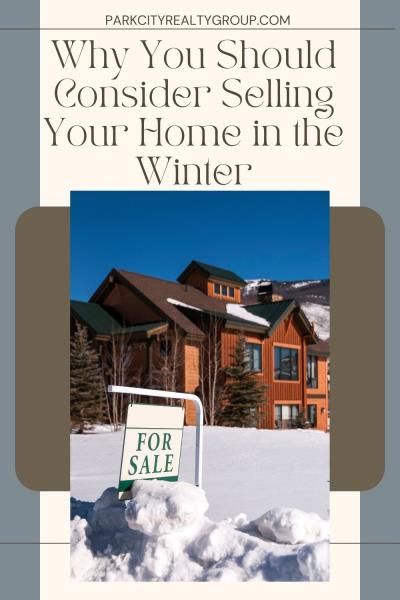 Shows How Tough Your Home is
Commonly, sellers believe that their homes show better in the spring with all blooming trees and flowers popping up but some homes truly show better in the winter. There is no better time to show off the home's winter preparedness and efficiency. Homes are decorated for the holidays and can give off a warm, cozy feel.
Less Competition
Spring is generally the most popular time for homes to hit the market, this only means that there are more homes available for sale that a seller has to compete with. Since there are fewer home listings in the winter, there is a better chance that your home will stand out to potential buyers.
Motivated Buyers
If there are potential buyers looking at your home, they are likely extremely motivated and serious buyers. Buyers looking at purchasing a home in the winter are not only working with colder temps and messier weather, they are likely trying to navigate the holidays and family obligations as well. Most buyers are going to either have money in hand or have their financing already lined up and ready to push forward quickly. Families moving in the middle of the school year, over Thanksgiving and Christmas break are probably motivated to find a home to settle in quickly to get their kids back in school and keep them on track.
More Attention
Due to the low housing inventory, lenders aren't nearly as busy as they are in the spring. Lenders have more time and are able to be more attentive enabling them to get financing ready quicker and push a quicker closing.
Selling your home in the winter really gives an advantage to a seller vs. the buyer. Most people buying in the winter have fewer options to work with and ultimately don't have a lot of room to negotiate. The buyer can usually get what they are asking for, even getting more than asking due to having less competition, the buyer has fewer options and could end up in a bidding war with another buyer.
If you decide to sell your home or find the need to put your home on the market in the winter, take advantage. Continue to prepare your home to show it off and all its wonderful features. Most importantly, be prepared to move quickly because once your home hits the market, it probably won't last and everything will move quickly.