The Benefit Of A Pre-Inspection Before Listing Your Home
Posted by Michael Mazzone on Tuesday, June 28, 2022 at 12:17 PM
By Michael Mazzone / June 28, 2022
Comment
A pre-listing inspection is one of the many things that a seller can do to make their home not only sell faster but to gain the trust of potential buyers and their agents. It is the same as a regular home buyer's inspection, only the seller has an inspection done on their own home before they list it for sale. Sellers often do this to get ahead of potential repairs and make their homes more appealing.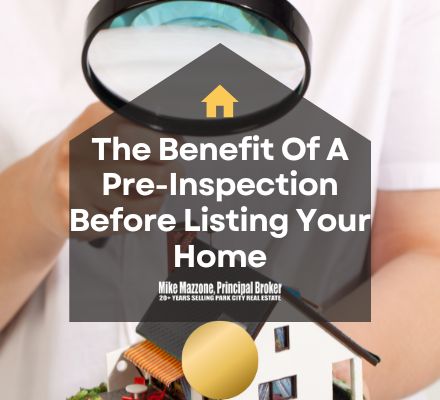 The inspection is the same as any other home inspection, with the inspector taking the time to look at each component and system of the home to ensure that it is working properly and that there are no major problems. While the buyer is typically the only one who has a home inspector look at the house during a real estate transaction, it is becoming more and more common for sellers to have an inspection as well. Why is this becoming more common?
When a homeowner decides to list their home for sale, typically they have owned the property for a couple of years and know if there are problems, which they may either choose to fix or not fix when they sell the home. These problems are usually disclosed to potential buyers when they are looking at the home, which is not a problem.
However, when the buyer is getting their own inspection, they may find that there are a lot of problems with the home that the homeowner was unaware of. The buyers might back out of the sale, or demand that the seller fix them before the deal goes through.
This happens frequently and is a huge reason why sellers have begun to get their own inspections. If they know about these problems before, they can get them repaired before listing or can adjust the asking price of the home accordingly.
A pre-listing inspection decreases the chances of the buyer finding hidden defects and backing out of the deal.
Sometimes when a buyer's inspector finds defects, they want to have their own contractors fix the problems with the home, but on the seller's dime. This often results in contractors hired for more money than they should be, with preferences that the buyer wants and that isn't always necessary. Getting a pre-listing inspection can save the seller money because they have the ability to price out various contractors, materials, and time frames depending on their preferences. If the home inspector doesn't find any significant defects during the pre-listing inspection, the buyer might decide that this inspection is sufficient for them and forgo getting their own inspection done.
Not only will this save the buyer money, but it will also save time. Selling and buying a home can be quite a lengthy process, and anything that can speed up the process is an advantage to both parties.
The best way to sell a home quickly and efficiently is to have the buyer trust you and your agent. A house is a huge investment and is one of the most important and costly things that people will buy throughout their entire life. This is why buying a home is such a long and carefully thought out process for most buyers. Anything that a seller can do to gain the trust of buyers is an advantage over sellers who do not do this because buyers want to feel safe and secure in their decision to purchase your home.
While a potential buyer will likely still choose to do their own inspection, the cost of a pre-listing inspection is still worth the small price you will pay for it.
Not only will it give you peace of mind, but it will allow you to gain rapport with buyers, and give you an advantage over other sellers before your home even hits the market.
If you have more questions about selling your Park City home or would like a free listing consultation, contact me below! I KNOW the Park City real estate market and can get your home sold fast for top dollar!