Current Market in Park City
Posted by Michael Mazzone on Monday, June 6, 2022 at 9:21 AM
By Michael Mazzone / June 6, 2022
Comment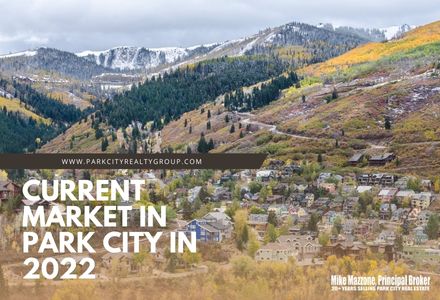 In 2021, everyone watched in awe as real estate markets across the country achieved record-breaking figures and an influx of buyers despite low inventory. While some real estate organizations and mortgage companies are hopeful that growth will continue in 2022, many see a different scenario. Let's take a look back at the real estate market in Park City, Utah in 2021, and see what 2022 may have in store for the best small town in America.
There's no doubt that 2021 was a significant and rather crazy year for real estate in the United States. Home prices rose quickly that year, so much so that by June of that year, the national median home price was already at $362,800, according to the National Association of Realtors (NAR).
Low mortgage rates (relatively speaking) and limited inventory drove prices higher. In fact, in June 2021, the number of homes for sale across the US was only 1.38 million. People were so eager to purchase homes, listings rarely stayed on the market for a month. Approximately 60% of homes available on the market were sold in just two weeks.
In Park City, Utah, national real estate market trends were as evident. Back in August 2020, the number of homes for sale in Park City went below 1,800 units, which only happened five times in the last eight years.
Home prices zoomed as inventory plummeted. According to the Park City Board of Realtors' multiple listing service, average and median listing prices went up by 28% and 24% respectively. As of March 2022, the median listing home price in Park City was $1.8 million, while the median listing home price per square feet was $952. While 2021 saw strong market conditions and record-breaking sales, it's quite unlikely that 2022 will exceed those numbers. But even if 2022 doesn't look as frenzied for real estate sales as 2021 was, it's still likely to exceed pre-pandemic levels, which is a good thing.
The same can be said for the real estate market in Park City, Utah. As the demand for properties rises and the inventory stays low, prices will continue to reflect the deficit. Prime properties continue to sell at a premium, and in some cases, the sales price is 10% over the asking price. While selling agents try to prep sellers for more days on the market, multiple offers have pushed prices to the "current market price." The average home in Park City is currently selling for $689 per square foot. Mortgage rates tend to be affecting the entry point of the real estate market in Park City. However, plenty of buyers are willing to pay cash for a property to use and love. In addition, many buyers view owning real estate in Park City as a hedge against inflation.
Park City, Utah is an excellent place to live because of its small-town vibe, its many opportunities for outdoor activities, excellent schools, ski resorts, and lower taxes. It's not hard to see why there's such a huge demand for properties in this side of Utah.
Search Park City Featured Communities
Browse The Newest Listings