8 Outdoor Renovations to Add Resale Value
Posted by Michael Mazzone on Tuesday, March 1, 2022 at 7:10 AM
By Michael Mazzone / March 1, 2022
Comment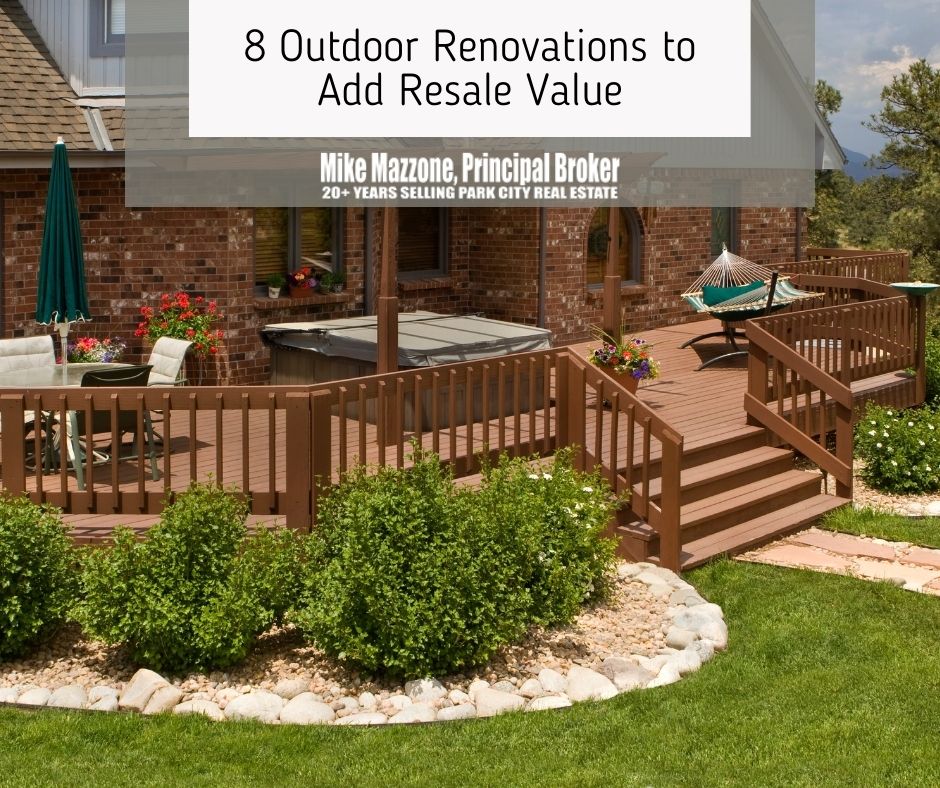 Outdoor renovations can add value to your home and help you enjoy it more, but not all add equity. Do you know which has the best ROI?
Here are 8 renovations for the exterior of the home that will add resale value to your property, while helping you enjoy it more in the meantime.
1. Firepit
Many potential buyers like the idea of a fire pit in the backyard. Whether you want to roast marshmallows with the family, cozy up for a romantic date night at home, or entertain over firelight, it suits buyers of all seasons of life.
The cost of installing a fire pit can range, but just a few thousand will often results in about a 70% return on investment, according to the National Association of Realtors and the National Association of Landscape Professionals.
Additional: 5 Home Heating Safety Tips
2. Replace your garage door
A new garage door will make a big visual impact as part of the first impression your home makes. Add resale value by upgrading for a new garage door and expect to recoup nearly all the cost.
3. Improve your lawn
One of the top ways to add resale value is by making sure you have a lush lawn. Just a few hundred dollars invested into fertilizer and a good lawn care plan has been shown to boost a home's value by about $1,000.
4. Add a deck or patio
Buyers are looking for outdoor living and entertaining space, so if your home does not have a space like this already, it is one of the best ways to add resale value. A deck or patio will add to the perceived square footage of the space, adding a new place to eat, entertain, and relax.
More: How Real Estate Drone Photography Can Elevate Your Listing
5. New siding
It may sound like a massive project, but one of the best ways to add resale value is by updating exterior siding. In many cases, you can expect to earn back 95% or more of the investment when you sell your home.
6. Outdoor lighting
For the visual appeal and the safety perks, consider adding outdoor lighting. This allows the outdoor spaces to continue adding living and entertaining space after the sun sets, as well as being one of the major crime deterrents.
Related: How a Staging Consultation Can Net More Profit from The Sale of Your Home
7. Sprinkler system
The investment to install a sprinkler system is usually met with about an 86% ROI. This is one of the simplest ways to add resale value, and usually takes just a day or two to complete the project. You will likely save on water, as well.
Most people who are hand watering their lawns end up using far more water than necessary, whereas a sprinkler system will use an exact, predetermined amount of water to result in a predictable water bill for you.
8. New front door
One way to add resale value that you can likely DIY is to replace your front door with an updated one. Look for a high quality steel door with timeless design, window panels, and new hardware. The cost will likely be between $1,000 and $2,000 and you can reasonably expect to make 75% of the cost back when you sell.
Additional: Should You Hire A Professional To Take Your Listing Photos?
It still might be the right project for you, but don't count on it as an investment that will add resale value, as that is rarely the case. Consider a pool a happy expense to add value to your life, but not necessarily your property.
For more information about selling your home, or preparing it to sell for top dollar, contact my office today. I would love to help you throughout the Park City Real Estate Market.