5 Things to Look For in a Golf Community
Posted by Michael Mazzone on Wednesday, November 3, 2021 at 12:53 PM
By Michael Mazzone / November 3, 2021
Comment
Living in a golf community is a popular choice because of the added property value, close proximity to a favorite hobby, and the added amenities that tend to be included; the beauty of living on a golf course is also hard to put a price on. Once you've decided you want to live in a golf community, your options may be overwhelming. Read below to find five things to look for when you're shopping for a golf community in Park City Utah.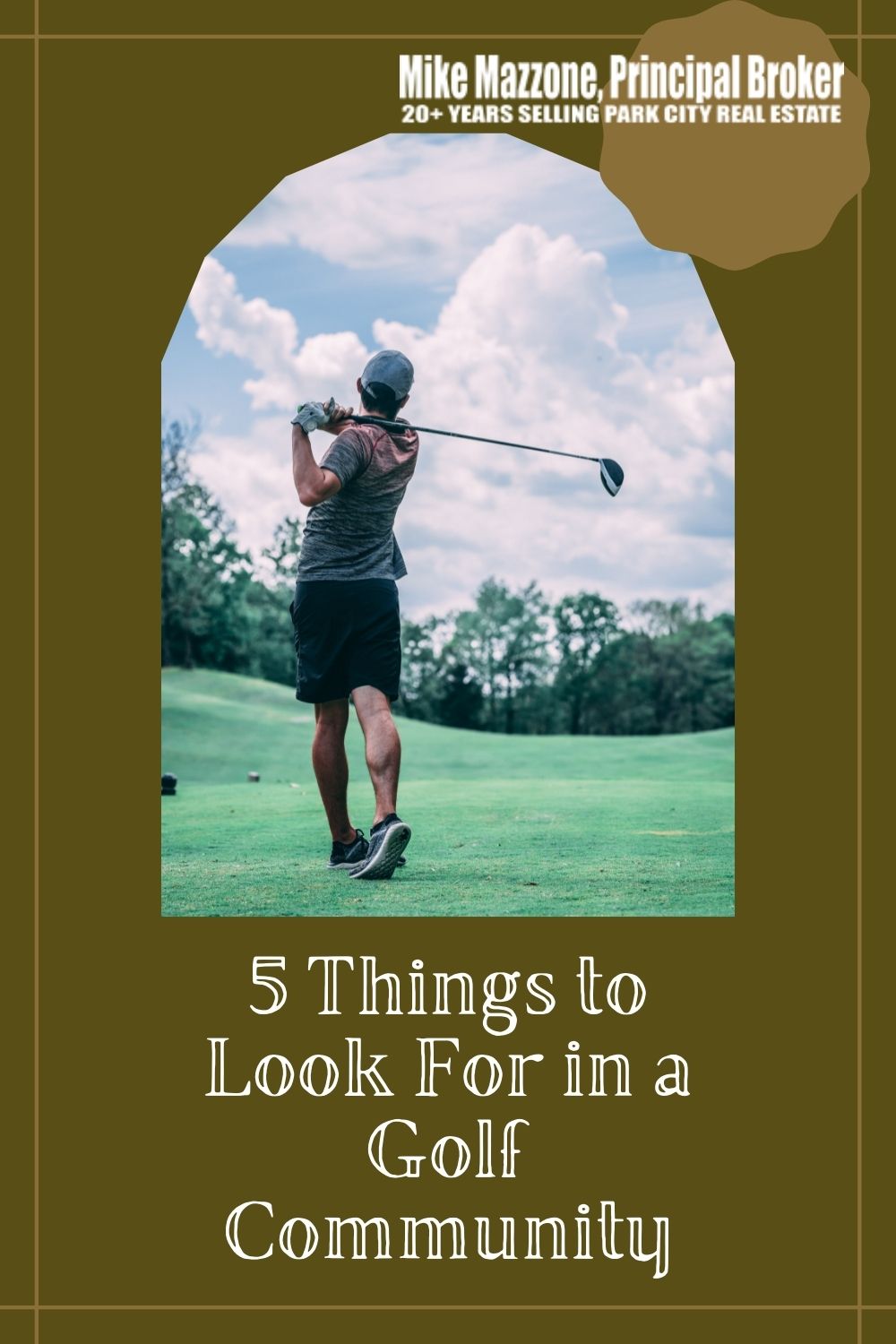 Location
As is often said when looking for a home to purchase, the location is the primary factor in your decision because it's the one thing you can't change. Granted, in a golf community there are other factors you're not able to change on your own either, but the location is still a significant part of the decision. If you plan to live in the community, all the typical considerations like proximity to shopping, schools, and work will be relevant. If you plan to become a member of the club while living somewhere else, your commute from home to the course is something you'll want to consider. You may also want a golf club that is close to other places you'll frequent in the community, so take your time considering the pros, cons, and relevant commutes.
The Course Itself
If you're going to become a part of a golf community, it is absolutely essential that the course is well-maintained and suits your preferences. Be thorough about your examination of the course and consider the condition of the tees, fairways, bunkers, rough, and the general appearance of the course. You'll also want to ask how busy the course is, particularly how challenging it is to get a tee time during peak hours. Find out if the club committee is thinking ahead to maintenance and improvements that will be necessary in the future to keep the course as good as it is now.
Additional Amenities
Nearly all golf communities will have more amenities than the golf course itself. The most desirable amenities might be a clubhouse, pool, tennis courts, dining options, or recreation areas. The amenities that matter most will be individual to you, but make sure to take that into consideration, especially if some members of your household are not golfers. Finding a golf community with perks that benefit the whole household will make the entire experience more enjoyable, and more worth the money.
Demographic
Determine whether it's important to you to be a part of a diverse community, or whether you'd like to live and play with people similar to you. Some communities are made up of mostly retired people, while others attract younger families and single professionals as well. You may also want to inquire about the skill level of the typical golfer in the community if you're hoping to make friends to play with regularly.
Fees
Living in a golf community comes with additional costs to the typical HOA dues, which might include monthly maintenance, property taxes, club dues, or even large one time fees for renovation. Find out whether the community you're considering keeps a healthy cash reserve on hand or whether members will be responsible for unexpected or planned expenses in addition to monthly dues. You'll also want to consider the price in relation to the amenities; even if the amenities are extensive, if you don't expect to use any of them the cost may not be worth it for your personal lifestyle.
Park City's Main Golf Course Communities Are: