4 Major Tips to Buying a Rental Property
Posted by Michael Mazzone on Wednesday, November 10, 2021 at 8:16 AM
By Michael Mazzone / November 10, 2021
Comment
Park City Utah is a great place to consider a rental home. Vacation property, house or a condo are all great options in this vacation destination. From ski-in and ski-out condos to luxury mountain homes.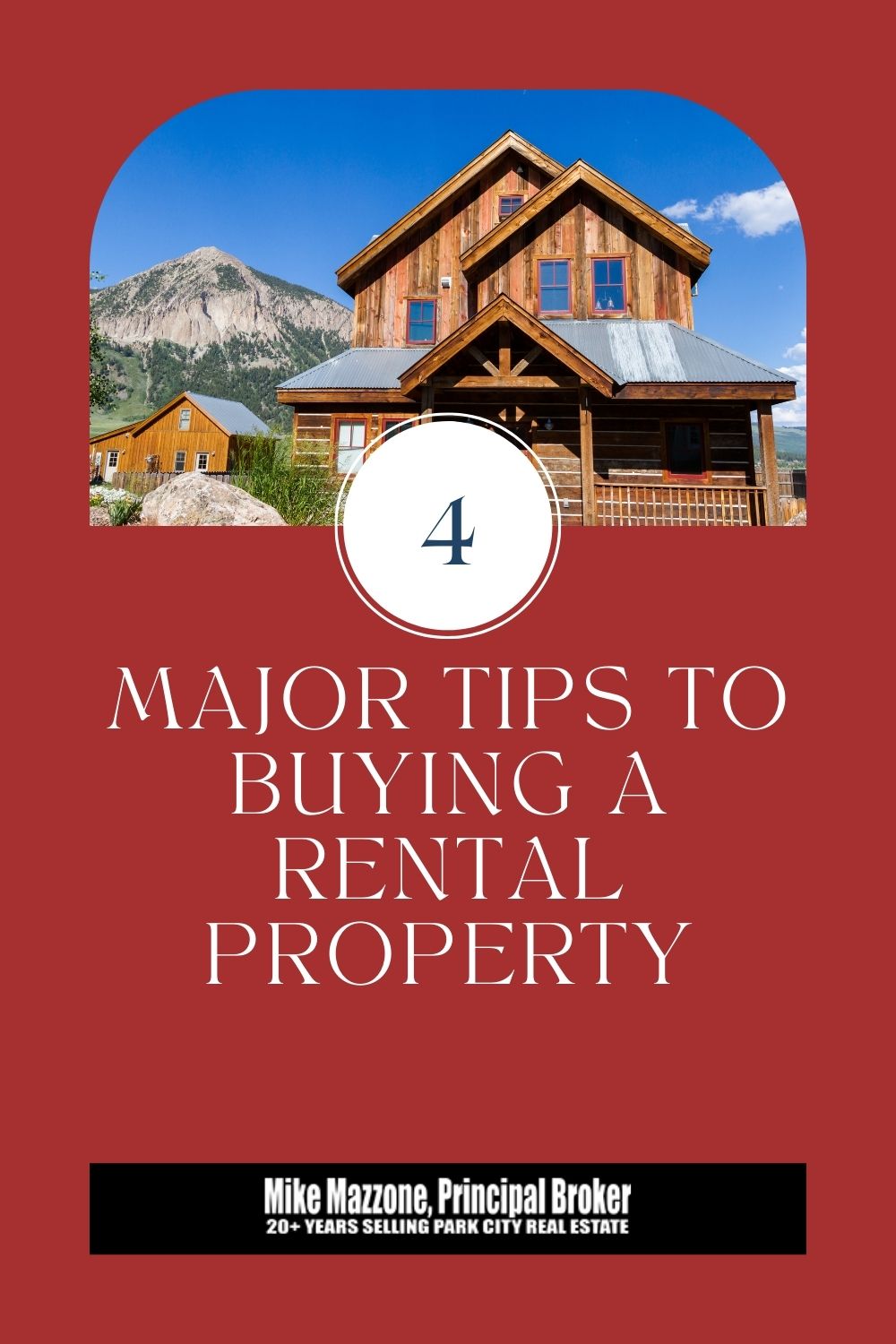 The interest in purchasing rental property has increased in recent years. It is said that this is partly because of a jump in inflation in the price of homes, historically low-interest rates, and a larger number of millennial-aged buyers choosing to rent instead of own property.
Real estate is now becoming the American favorite long-term investment purchase according to a recent study that was conducted by Bankrate, investing in real estate has been consistently ranked as the top choice for investment since 2012 in America.
Should you purchase a rental property? Some real estate experts say it is a very good investment as long as you do your homework and determine that it really is a viable investment for you.
Here are some things to consider when buying a rental property
First, determine if purchasing an investment rental property is the right investment for your personal situation
There are many TV shows out there that sensationalize and romanticize the idea of becoming an investment property owner. They make it look like fast and easy quick money; like a lucrative investment. To make the most of a rental property however it requires very solid knowledge of your financial situation and the rental market in which a property exists as well as expert knowledge of the area's landlord and tenant laws.
It is also a good idea to determine if you have enough time to become an actual landlord or enough money to hire the most reputable and trustworthy of property managers. Several people get into the rental business without realizing exactly how much work it takes and that it is more of a long-term wealth investment.
Determine whether you should purchase with cash or finance the property
Some financial experts will advise that you should only get yourself into the rental business if you can pay all cash for the property, but there are some that say financing the purchase could still be beneficial. When purchasing a rental property, you will need to decipher if the income will able to easily cover the cost of financing the property.
In some cases, financing a property more than pays for the mortgage payments itself will earn you double investment credit with the benefits of paying off a loan while keeping your cash in your pocket.
Find an amazing location
Just because a home is empty and available doesn't mean that it will easily be turned into a rental. The best location of a rental property is the one where appreciation is high and there is easy means of finding a responsible tenant. In some cases going for a property that you know will have an optimal appreciation, if you plan to hold onto it for several years, will be the better way to go.
Make sure you have a budget for the unexpected
There are several expenses that can pop up with owning a rental property. If you do not have a reserve of funds to take care of any of these needs you could find yourself in a very sticky situation that may cause you to be in financial turmoil. Experts advise that landlords should have about 20 to 30% of the rental income kept in a rainy-day fund for maintenance and emergencies that may happen at the property.
Additional: How to find the right contractor for a construction project
Rental properties can be an amazing and excellent investment when you approach it in a very businesslike and professional manor, and are extremely realistic about the laws and expectations as well as the slow income growth over the long term.
Contact my office below for more information on rental properties in and around the Park City real estate area.